Anne Russon Receives York's 2018 Distinguished Research Professorship
Professor Russon from Glendon's Department of Psychology is honoured for her outstanding research contributions to the University. Read more »
Glendon Grads Address Canada@150: Videos of Conference Speakers
In September 2017, some of our most accomplished alumni came back to Glendon to offer a mix of observations, best wishes, predictions and advice to Canada during its 150th year.
Watch the videos here »
3rd Year Student Keesha Nurse is Awarded by Fondation Franco-Ontarienne
Last Saturday, Fondation franco-ontarienne recognized Keesha Nurse for her outstanding contribution to the development of La Francophonie. Read the full article »
David Ip Yam presents at the 37th Annual First-Year Experience and Students in Transition Conference
This past February, Glendon's Director of Student Affairs presented research regarding the pilot year of the 3.0 credit course, Pathways for Life-Long Learning. Read the full article »
Glendon's ITS Team Named Winner of the 2017 Harriet Lewis Award for Excellence
Congratulations to Glendon's Information Technology Services team who was recognized for its excellence in service to its community, as part of the President's Staff Recognition Awards. Read more »
Memorial Service for Prof. Daphne Schiff on April 29
Pilot, professor, adventurer, staunch family supporter, and lady, Daphne Fane Dorothy Line Schiff lived a fortunate and adventuresome life. A celebration of her life will be held on Sunday, April 29, at 11AM in the Albert Tucker Room (Senior Common Room), 3/F York Hall 317. More details »
Glendon Global Debates: Global Populism
Glendon Global Debates is excited to announce another informative session with an all new set of panelists! On March 22nd, the topic of Global Populism will be discussed. With all the news in the media, this is one you don't want to miss! Read more »
Discover Thailand at this Year's International Studies Symposium
The Symposium – to be held on March 10th – will shine a light on the Kingdom of Thailand. The conference will host panels on economic, social, and cultural themes, provide a Thai cuisine luncheon, and the opportunity to connect with distinguished experts. Read more »
Living Authentically in a Complex World: Glendon's 2018 Leadership & Career Summit
On February 9, the Glendon community participated in a full day of developing leadership skills, exploring career opportunities, and connecting with like-minded individuals. View photos of the day here »
Vive le Carnaval: Glendon's bilingual event a hit with families
York University's Glendon Campus welcomed more than 300 children, parents and bilingual partners from the GTA for its first Carnaval de Glendon, held Jan. 27 in partnership with Canadian Parents for French Ontario. Read more »
Glendon researchers awarded funding for brain health education
Researchers Guy Proulx and Kristoffer Romero have received $240,000 in funding from The Centre for Aging + Brain Health Innovation (CABHI) to develop The North-South Brain Health Educational Course Initiative. Learn more »
Second year student Jigar Ganatra wins trip to the Canadian Conference on Student Leadership
The sponsorship, from the Office of the Principal, will grant Jigar the opportunity to meet and share ideas with other student leaders at the event in Vancouver, BC. Read more »
The Canadian Language Museum presents "From Smoke to Cyber Signal", paintings and sculptures by abenaki artist Carmen Hathaway
Accompanying this exhibit, Nadine St-Louis, indigenous entrepreneur of mi'kmaq and acadian heritage, gave a presentation on January the 26th, from 1:30-3pm in room YH A300. Read more »
Fourth year English Studies student Emily Leahy receives prestigious Killam Fellowship
The Killam Fellowship, awarded by Fulbright Canada, will fund Emily's semester-long exchange to Arizona State University. Read more here »
Thank you for joining us on Thursday, December 14, 2017 for Glendon's first Marché d'hiver
Participants found some gift-giving ideas and treated themselves to various gourmet foods, all while networking with fellow alumni and the Glendon community. See the photos here »
Professor Willem Maas receives grant to study Canadian citizenship and nationality laws and policies
Professor Willem Maas has been awarded a five-year Insight Grant by the Social Sciences and Humanities Research Council to pursue his research project. Find out more »
In Memoriam: Celebrating the Life of Albert Tucker
We are saddened to hear about the passing of Albert Victor Tucker, second Principal of Glendon Campus and Professor Emeritus of York University. He is remembered as an inspiring teacher and a helpful colleague. A memorial service will be held on December 8th. Read more »
His Eminence, Thomas Cardinal Collins, Archbishop of Toronto, is this year's John W. Holmes Memorial Lecture features speaker
On November 22, come hear His Eminence speak to the topic of "The Clash of Religion and Secularism". Register Now »
We hope you had a good time visiting us on November 5 for Fall Campus Day !
Thank you to all who attended our biggest open house of the year! To view a recap of the event, including all presentation slides, visit here »
New Faces: Glendon welcomes seven new faculty members
This academic year, Glendon adds several new faces to its faculty, including six professors and one senior research fellow. Read more here »
Glendon Professor Emerita Margarita Feliciano awarded one of Argentina's most prestigious honours
Professor Emerita Margarita Feliciano was decorated to the Rank of Officer of the Order of May on the occasion of Argentina's National Day celebration. Find out more »
Glendon Principal Donald Ipperciel awarded France's Order of Academic Palms
One of France's highest honours was recently bestowed upon the Principal of the Glendon Campus, Donald Ipperciel. To find out more »
Internationally recognized vision researcher joins Glendon Psychology Department
Glendon welcomes world-renowned vision scientist, Dr. Patrick Cavanagh, to its campus as Senior Research Fellow in the Department of Psychology. For the full story »
Professor Véronique Tomaszewski honoured with teaching award at the Glendon Convocation
Sociologist Véronique Tomaszewski received the President's University-Wide Teaching Award in the Contract and Adjunct Faculty category at the Glendon Convocation on June 24. Read more»
Glendon announces the recipients of the 2017 Principal's Research Excellence Awards; Valérie Schoof and Swann Paradis
Professor Schoof from Glendon's new Biology program has received the award in the early-career category and French Studies Professor Paradis has been selected in the established scholar category. Read more »
Glendon adds a new Entrepreneurial Skills Passport to the recently introduced bilingual GENIAL Program
Part of an extracurricular program in entrepreneurship, the Passport provides students with an opportunity to take part in a series of workshops focused on developing core entrepreneurial skills. To find out more »
Congratulations to Glendon's graduating class of 2017 and thank you Dr. Shoukri!
Take a look inside this years' convocation with touching moments from the graduates, their guests and the last ceremony with Dr. Shoukri as York University President. Watch the Video »
Glendon's Professor Anne Russon honoured with the 2017 President's Research Excellence Award
Professor Anne Russon, from Glendon's Department of Psychology was presented with the award on April 4 at the York Research Leaders' Gala, a star-studded annual event in the research community. Read more
Glendon's Professor Andrew Dawson awarded Harry Frank Guggenheim Foundation Grant
The Harry Frank Guggenheim Foundation will fund Andrew Dawson's project, which compares historical homicide rate trajectories in Canada and the United States. Read more
Glendon takes third place at the 12th annual Translation Games
Competing against undergraduate Translation programs from across Canada, Glendon's School of Translation had its best performance ever at the 12th annual Translation Games in Montreal. Read the full story here
Glendon students win second prize in the TLN / CERLAC 2016 competition
Two narrative works by fourth-year Glendon students Yuriko Matayoshi Franco and Thomas Stratan both won second prize in the CERLAC 2016 essay competition. Read more
Glendon endorses historic Truth & Reconciliation Declaration on Indigenous Language Policy
On January 27, Glendon's Faculty Council voted unanimously to "endorse and adopt the principles" of the Glendon Declaration. Read more
Open Your Mind: A conversation with Tim Moore, psychology professor at Glendon
Serving as a consultant or expert witness in many criminal trials in Canada and the U.S., Professor Moore covers issues related to memory, police investigative practices and interrogations. Read more
Steve Paikin, host of TVO's The Agenda discusses his latest book at Glendon on April 4
Join Steve Paikin for a talk on his book about one of Ontario's most important premiers, Bill Davis: Nation Builder, and Not So Bland After All. Read more
The Honourable Bill Graham speaking at Glendon on March 14
As the featured speaker of this year's Annual Jean-Gabriel Castel Lecture on International Law and International Organizations, the Honourable Bill Graham will be discussing "International Law: A Political Perspective". Read more
Glendon Biology professor publishes new book on non-native species
Professor
Radu Guiasu's book entitled Non-native species and their role in the environment: The need for a broader perspective challenges the prevailing negative attitudes against such species. Read more
Two Glendon professors honoured for their dedication to engaging and inspiring students
Faculty
members Audrey Pyée and Jennifer Sipos-Smith are the recipients of this year's Principal's Teaching Excellence Awards. Read more
Bilingual citizenship ceremony at Glendon unique lesson for students
Stude
nts taking a course on Canadian citizenship at York University's Glendon College were given a unique experiential education opportunity on Nov. 3, when they met with about 65 new Canadians an hour before they officially received their Canadian citizenship. Read more
A new take on peer mentorship: Glendonites poised for success
Over the past several years, Glendon's peer mentorship program has grown to become a key opportunity for connection between new Glendonites with strong upper-year students to acquaint them with the curricula, classrooms, and the campus as a whole. Read more
Glendon Welcomes 10 New Faculty Members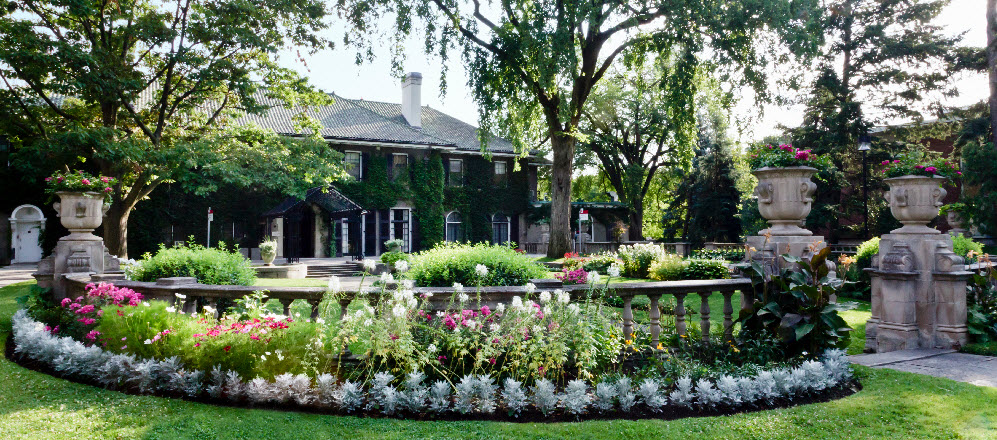 "These professors are breathing new life into Glendon and we can feel an exciting dynamism and energy permeating all our activities. What a great way to celebrate Glendon's 50th anniversary." – Principal Donald Ipperciel Read more
Canadian Studies professor Colin Coates adds two collections to growing literature on environmental history
Environmental history is a burgeoning field in Canada, and within the space of five months, Professor Colin Coates has added two works to the growing literature. Read more
Professor Swann Paradis wins SSHRC Insight Grants for his research combining literature and sciences
His fascinating research project seeks to shed light on relationships between French and Dutch naturalists at the turn of the 18th and 19th centuries. Read more
Primatologist Valerie Schoof awarded NSERC grant for research on vervet monkeys
A primate behavioural ecologist in Glendon's bilingual biology program, Dr. Schoof specializes in the ecological, social, and physiological factors that influence—and are influenced by—social dominance in male primates. Her research program, now partially funded through a grant from the Natural Sciences and Engineering Research Council of Canada, focuses on the behavioural and life history of wild vervet monkeys. Read more
Professor Roberto Perin wins the 2016 Principal's Research Excellence Award
Professor Roberto Perin has been honoured with the 2016 Principal's Research Excellence Award, given annually to recognize full-time faculty members who have made an outstanding contribution to research in the last three years. Read more
D-TEIL program celebrates 10 years of international teaching practicum in Cuba
Every two years since 2006, the Glendon class GL/EN 4696 has visited the Faculty of Foreign Languages of E.J. Varona University of Pedagogical Sciences in Havana, Cuba to conduct its three-week international teaching practicum. Read more
Open Your Mind: A Q&A With Refugee and Migration Researcher Christina Clark-Kazak
Appearing at regular intervals in YFile, Open Your Mind is a series of articles offering insight into the different ways York University researchers champion fresh ways of thinking in teaching and research excellence.Today, the spotlight is on Christina Clark-Kazak, acting director of the Centre for Refugee Studies and associate principal, research and graduate studies at Glendon. Read more
Former Glendon Principal Kenneth McRoberts receives prestigious award from the French Republic
Professor Kenneth McRoberts, former Principal of York University's Glendon Campus, has been appointed to France's National Order of Merit. Read more
Open Your Mind: A Q&A with Glendon's Igor Djordjevic, professor in the Department of English
Appearing at regular intervals in YFile, Open Your Mind is a series of articles offering insight into the different ways York University professors, researchers and graduate students champion fresh ways of thinking in their research and teaching practice. Today, the spotlight is on Igor Djordjevic, a professor and researcher in the Department of English at Glendon. Read more
Historic announcement at York University's Glendon Campus during the 2016 Toronto Francophonie Forum
The Ontario government has granted York University partial designation under the French Language Services Act, which designates the Glendon Campus as a French-language service provider. This partial designation formalizes the university's commitment to provide francophone and bilingual education now and into the future. Read more
Open Your Mind: A Q&A with Francis Garon, political science professor at Glendon

Appearing at regular intervals in YFile, Open Your Mind is a series of articles offering insight into the different ways York University professors, researchers and graduate students champion fresh ways of thinking in their research and teaching practice. Their approach, grounded in a desire to seek the unexpected, is charting a new course for future generations. Today, the spotlight is on Francis Garon, associate professor in the Department of Political Science, and the School of Public and International Affairs at Glendon. Read more
Fourth-year student Tetyana Klimova awarded Killam Fellowship

Fulbright Canada has awarded fourth-year Glendon student Tetyana Klimova with a prestigious Killam Fellowship, funding a semester-long exchange to the University of Washington, which she started earlier this month.Read more
Prestigious award announced for Professor Gerald Young
The Traumatic Stress Section of the Canadian Psychological Association (CPA) has accepted and approved Young's nomination for its Lifetime Achievement Award – the highest level of achievement in the field. Read more
Glendon Psychologist elected Fellow of the American Psychological Association
With over 100,000 members, the APA appointed Dr. Young along with 112 other scholars in 2015. Fellow status is a special distinction bestowed upon an APA member for their outstanding and unusual contributions in the field of psychology. Read more
Professor Stanislav Kirschbaum Awarded One of France's Most Prestigious Honours
On June 25 2015, Professor Stanislav J. Kirschbaum, the chairman of the International Studies department, was officially promoted to the rank of Officer in the Order of Academic Palms by the Consul General of France, Mr. Jean-François Casabonne Masonnave.Read more