Do you think communication is more important than ever when it comes to shaping and understanding our world?
We do too! That's why we launched a brand new Bilingual Program in Communications: the very first one of its kind in Ontario.
The program's bilingualism is unique as it not only offers the opportunity to study communication in both French and English, but also allows to get familiar with the challenges that communication poses in both distinctive linguistic environments. Students graduating with a major in communications will possess a crucial advantage in a context where employment requires cutting-edge knowledge and up-to-date experience in both languages.
Learn more about the unique advantages of studying communications at Glendon and read real-life examples of alumnae who now work as qualified bilingual communicators.

Check the new academic calendar for 2017-2018 to learn more about COMS program-specific degree requirements.
Get a head start in the program by enrolling in the new COMS courses offered in 2017-2018 (download course descriptions):
COMS 1000 Introduction to Communication Studies
COMS 1000 Introduction aux études en communication
COMS 1100 Methods in Communication Research
COMS 1100 Méthodes de recherche en communications
COMS 2000 Social Media, Marketing and Advertising
COMS 2000 Les médias sociaux, la publicité et le marketing
COMS 2001 Information et technologie
COMS 2001 Information et technologie
COMS 2100 Communication, Language, Media & Meaning
COMS 2100 Communication, langue, médias, construction du sens
COMS 2200 Computer tools & applications for communication
COMS 2205 Creating and Promoting Web Content
COMS 3201 La communication dans le monde transnational
COMS 3202 Digital Discourse & Deisgn
COMS 3203 Enjeux en communication interculturelle
"Introduction to Communication Studies"
What is communication? For centuries, communication has played a complex role in our lives. It is both the source of many a problem and the solution to others. Communication is also an issue arising in areas of public debate, in personal relationships and missions to outer space. The course Introduction to Communication Studies aims to clarify the concept of communication in a unique way. It explores the surprising diversity of forms in which it has been considered over several hundreds of years, from the infancy of democracy to the rise alter-globalization demonstrations. This course also familiarizes students with the communication practices that characterize different historical periods and different cultures up the present time.
"Social Media, Marketing and Advertising"
Is there any form of media that is not social? Are the best products always those that have been most successful? What happens when consumers become producers? How can marketing and advertising practices be adapted to grassroots initiatives? These are some of the questions examined in the course Social media, marketing and advertising. This course is a unique opportunity to become familiar with the ever-present and oft-misunderstood phenomena of social media. It enables students to work hands-on with these everyday media in order to develop a critical analytical approach. Social media should be neither condemned nor celebrated, but instead understood with a critical and comprehensive eye. The course offers a detailed approach to understanding how the technological processes of social media are associated with the commercial mechanisms of advertising and marketing. At the same time, it demonstrates how these tools can be used for alternative and innovative ends.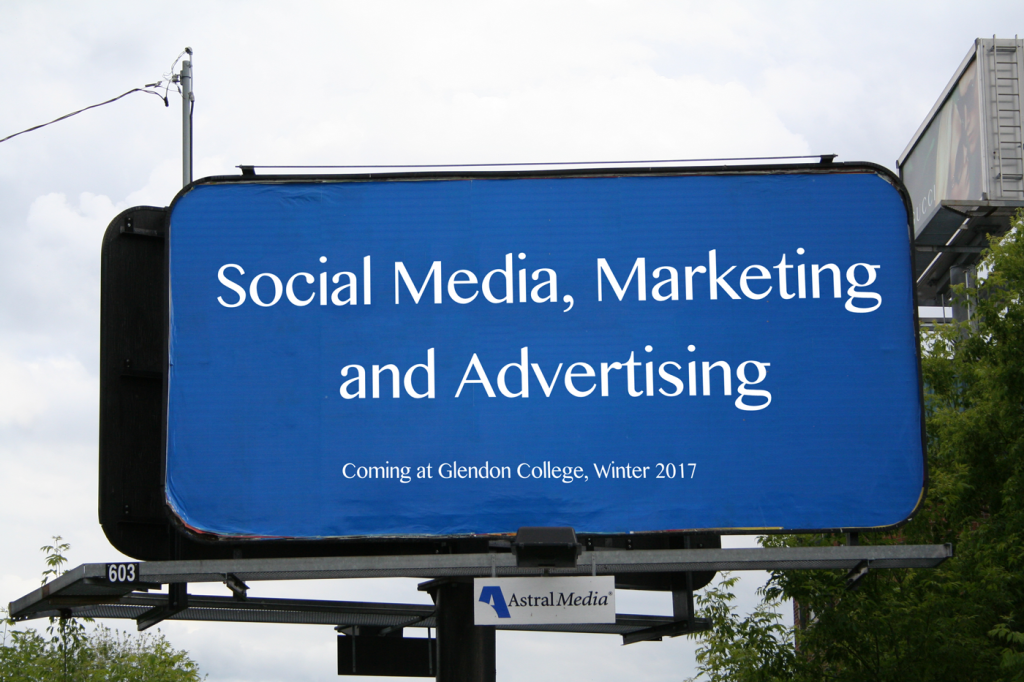 "L'information et la technologie"
Quelles sont les impacts des technologies sur nos vies et nos sociétés? Comment évaluer ou mesurer ces impacts? D'ailleurs, la notion d'impact est-elle vraiment la meilleure pour analyser les dimensions sociales et culturelles des technologies de la communication? Chaque nouvelle technologie apporte son lot de discours quant à son potentiel de transformer radicalement notre vision du monde et nos manières de communiquer. Sans nier les contraintes et les possibilités communicationnelles d'une nouvelle technologie, il est important de demeurer critique face à ces discours provenant très souvent du monde du marketing. Ce cours présentera différentes approches tant théoriques que méthodologiques pour étudier les aspects sociaux, culturels et politiques de l'information et de ses technologies. Il abordera notamment les phénomènes sociologiques de l'innovation, de la diffusion et de l'appropriation et plus généralement, les multiples discours et imaginaires associés aux différentes étapes de l'évolution technologique.
Communication, langue, médias et construction du sens
Le sens d'un message se trouve-t-il seulement dans celui-ci? Quelle est la part d'interprétation du récepteur d'un message ou d'un discours? Le média lui-même (télévision, radio, média social) peut-il influencer la construction du sens? Plus généralement, pourquoi avons-nous encore aujourd'hui autant de « problèmes de communication » malgré la multitude de moyens de communication dont nous disposons? Le cours introduira à quelques-unes des différentes approches pour analyser la construction du sens, des cultures et des discours organisationnels par le biais de la langue et des différents médias. Il abordera également quelques éléments d'introduction à la sémiotique (l'étude des signes), ainsi que la manière dont les médias et les technologies eux-mêmes sont socialement construits et réinterprétés. La prémisse de ce cours est que le sens, comme pratique de communication, est toujours le fait d'une construction commune, à laquelle participent autant des individus, des institutions que des dispositifs médiatiques.
---
How to Apply
Admission Requirements      Application Deadlines
Ready to Apply?
Ontario Universities' Application Centre (OUAC) Codes
BA: YYT
iBA Bilingual: YGG
iBA Trilingual: YGH
Questions? Please contact us!
Student Recruitment & Applicant Relations
liaison@glendon.yorku.ca
416-487-6710