Mar
20
Tue
Semaine de la Francophonie at Glendon

@ Glendon Campus, York University
Mar 20 @ 12:00 am – Mar 27 @ 12:00 am
Save these dates!
March 20th, 2018 from 7 to 8:30 pm at Glendon's Amphitheatre (A100)
It's movie night at Glendon!
Come watch Des femmes inspirées et inspirantes (Inspired and Inspiring Women), a selection of five films about exceptional Francophone women who are driven by their passionate artistry.
Let's celebrate la Francophonie in all its diversity, all its duality and all its dynamism with this free public screening offered by the National Film Board of Canada (NFB). The screening about inspired and inspiring women will leave you feeling inspired!
This screening is appropriate for the general public (8 years and over) so join us with your friends and family!
March 27, 2018, from 6:00 to 9:00 pm at BMO Ballroom in Glendon Manor
Stimulate your French mind and be part of the show!
Help us celebrate the end the Francophonie Week at Glendon by participating in this fun community event, which will include a musical show in French and captivating activities that will stimulate your French-speaking minds!
Come eat, socialize, be entertained and discover funny and interesting facts about la Francophonie in Ontario, Canada and around the world. Come one, come all! We also have a few surprises in store!
Apr
25
Wed
April in Paris

@ Toronto Cricket, Skating and Curling Club
Apr 25 @ 6:30 pm – 10:00 pm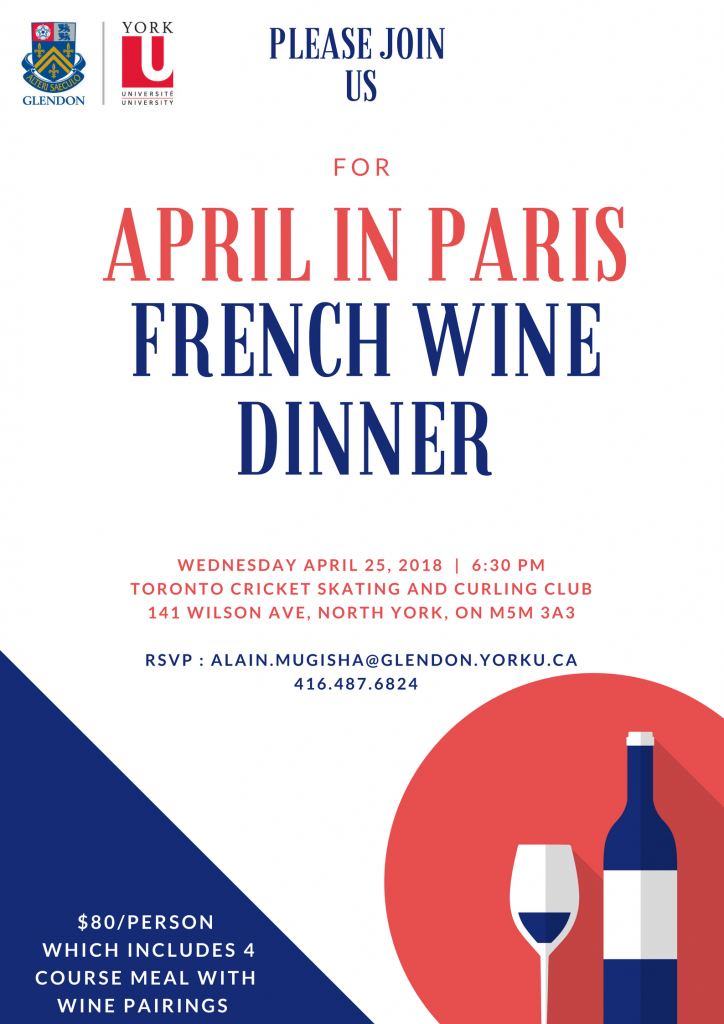 Join members of the Glendon Campus community for a special French Wine Dinner at the beautiful Toronto Cricket Skating and Curling Club, located at 141 Wilson Avenue in Toronto.
The event features a delicious four-course meal of French cuisine with wine pairings from regional wineries in France. Meet and mingle with special guests and fellow alumni from Glendon, including Chantal Fry (year), who will share culinary, cultural and travel secrets about France, as well as business insights and social customs ideal for members travelling to French-speaking countries or doing business with French-speaking people.
$80/person which includes a 4 course meal with wine pairings (cash bar for additional beverages purchased)
For more information or to reserve your ticket, please contact Alain Mugisha:
Alain Mugisha
Development and Alumni Coordinator
Office of Advancement & Alumni Relations
Telephone: 416-487-6824
Email: alain.mugisha@glendon.yorku.ca
May
1
Tue
Legacies

@ Canadian Language Museum at Glendon

Legacies Photo Exhibit – Opening at Glendon Gallery May 1
Join us at the Canadian Language Museum on Tuesday May 1 for the opening of the Legacies photo exhibit, created by Glendon alumna Dr. Gina Valle. Since graduating from Glendon, Gina Valle completed a Masters in Education and a PhD in Teacher Education and Multicultural Studies. Founder of Diversity Matters, Gina Valle works in Canada and abroad in the field of diversity.
This exhibit consists of portraits of immigrant women from 24 different countries with their Canadian granddaughters' reflections on their legacies. The women's stories provide insights on hardship, the power of resilience, the changing family in Canada, feminism, intergenerational relationships and aging from many cultural and religious perspectives. The women showcased in Legacies are the gatekeepers of language and culture. Each photographic portrait is accompanied by the granddaughter's reflections in English, French and the grandmother's native language.
Legacies has travelled to the Middle East, Asia, Scandinavia and it is with great pleasure that we welcome it to the Canadian Language Museum, as part of the Contact Photography Festival. On the evening of the opening reception, we will also include a video about Indigenous languages in Toronto by students in Glendon's 'Histoire vivante' course, and the launch of the web exhibit 'Messages from the Mosaic'.
Legacies will be on display at the Canadian Language Museum in Glendon Gallery during May and June, Tuesdays – Thursdays, 12 – 5 pm.
Opening Reception Tuesday May 1, 6-8 pm.
https://www.facebook.com/events/360704097740391/